It's All About the Ingredients
Like any perfect recipe, high quality, effective ingredients, combined in exactly the right proportions, are critical to a product's success. These are the key ingredients that make Proactiv+ so effective at clearing acne pimples, helping prevent new breakouts, and delivering exceptional skincare benefits like smoother, more radiant skin.
Benzoyl peroxide is widely known as one of the best anti-acne treatments because it starts killing bacteria on contact in the pores, where acne starts. You'll find it in steps 1 and 2 of Proactiv+. Glycolic acid (an alpha hydroxy acid) and salicylic acid (anti-acne treatment) are excellent at sloughing off dead skin cells so that pores don't become clogged. This also helps to minimize the look of pores and give an all-over radiance to skin. Used in the right sequence and in our proprietary Proactiv+ formulations, these tried and true ingredients can control your acne breakouts.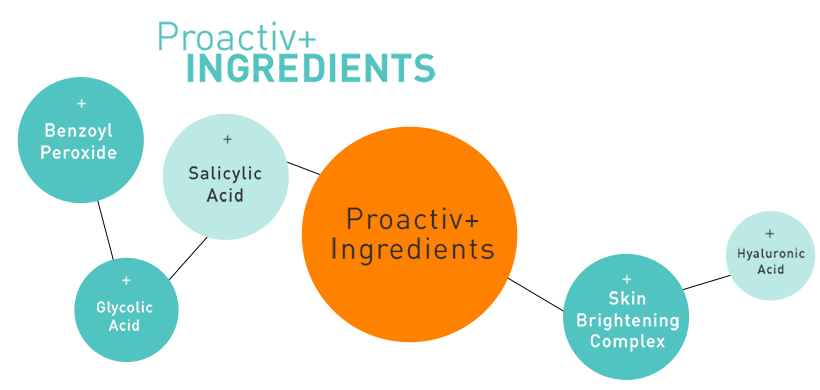 Even more skincare ingredients for even better skin
Proactiv+ offers exceptional skincare benefits, like hydrated, even-toned and radiant-looking skin, and these new ingredients can give you these beautiful results. Our Skin Brightening Complex contains skin brightening botanicals like kojic acid, licorice extract, bearberry root and sophora root. Our moisturizing complex has powerful humectants such as hyaluronic acid which pulls in moisture like a magnet to visibly plump and hydrate the skin. And our skin conditioning complex has specialized skincare ingredients like bisabolol designed to help soothe and calm redness and irritation. All three of these complexes are in Step 3 Complexion Perfecting Hydrator along with a skin mattifier and nourishing prebiotic. These are the high-end skincare ingredients now found in Proactiv+.